Do you know if corrosion is taking place inside your dry or wet pipe fire sprinkler system?
Here are several ways to monitor the corrosive activity inside your fire sprinkler system while simultaneously evaluating the effectiveness of your corrosion management system.
ECS Corrosion Monitoring Options
In-Line Corrosion Detector
Engineered Corrosion Solutions offers a full line of solutions for your corrosion monitoring system. The In-Line Corrosion Detector (ILD-X) is a continuous real-time electronic monitoring device. Designed to be used on new or existing systems, this device simply installs where corrosion is most likely to occur.
The ILD is designed with a double wall detection chamber. The inner wall detection surface is machined to a precise thickness that corresponds to the pipe diameter and schedule of the system it is monitoring. The thickness of the detection surface is calculated to provide early warning of corrosion activity such that it is detected prior to the sprinkler pipe degrading to the point that it requires replacement.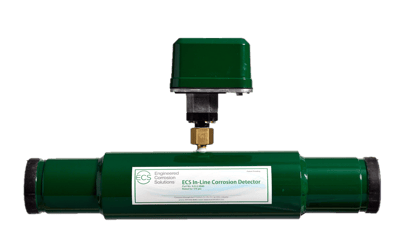 The annular space between the inner and outer wall provides the ability to monitor the integrity of the detection surface. This setup allows the end user to forget about those annoying coupons seen in a traditional riser-mounted corrosion monitoring station.
Features:
Only UL Listed device for monitoring corrosion in steel pipe fire sprinkler systems.

Satisfies NFPA 13 corrosion monitoring requirements.

Includes UL Listed/FM approved pressure switch for remote monitoring.
18 inches long and available in pipe sizes 1" through 6", black or galvanized steel, and schedule 10 or 40 rolled grooved for easy installation.
2017 NACE Corrosion Innovation of the Year Award.
Gas AnalyzerS
When using a nitrogen generator on a dry or preaction fire sprinkler system it is important to verify that the proper purity of supervisory nitrogen gas is being delivered. ECS offers two gas analyzers to ensure the purity of nitrogen being supplied meets the 98%+ target.
Smart Gas Analyzer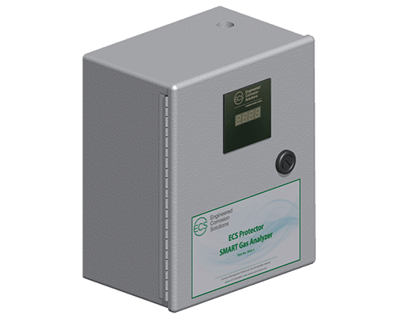 Used in correlation with an ECS Protector Manual Vent (PAV-D) or the SMART Vent (PSV-D), the SMART Gas Analyzer (SGA-1) provides a continuous purity reading of your supervisory gas. The SGA-1 notifies the user if the nitrogen generator feeding the system performs outside specifications. The unit can be monitored by the BMS or fire alarm system to provide early warning if the nitrogen concentration drops below the desired level.
Features:
120V AC or 24V DC power requirement
Can be monitored by BMS or fire alarm system
Connects to oxygen removal vent with 5/32" tubing
9" x 7" x 10", 12 lbs
Handheld Gas Analyzer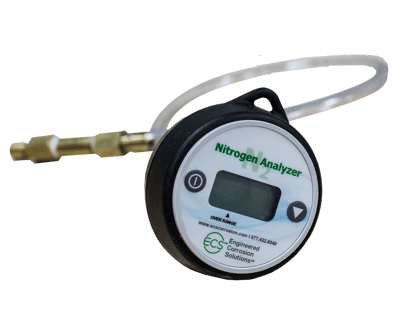 Provided with every nitrogen generator, the handheld nitrogen gas analyzer (PHGA-1) is a versatile, mobile and cost-effective way of measuring gas composition inside your fire sprinkler monitoring system or at the nitrogen generator.
If monitoring through a BMS or fire alarm system is not desired or available, the PHGA-1 is the next best thing to sample gas composition. Unlike the SGA-1, the PHGA-1 can be used for both dry pipe nitrogen inerting and wet pipe nitrogen inerting applications.
Features:
Lithium battery powered
One-touch calibration
Includes tubing and quick connect fitting compatible with all ECS products
Portable dimensions: 2.5" diameter, 2 oz.
The Handheld Gas Analyzer is now available for direct purchase from our online store exclusively to fire sprinkler contractors. Click below to visit the store.
Mission Critical Corrosion Monitoring
In mission critical environments, it is particularly important to deploy corrosion monitoring, as there is a higher level of risk than other types of facilities. Corrosion monitoring methods are essential to provide an end user an early warning of corrosive activity within the sprinkler before a through-wall failure occurs, potentially resulting in large losses of property and business continuity.
CASE STUDY
An ECS In-Line Corrosion Detector was installed on thirty-nine (39) preaction sprinkler systems at a new colocation data center to provide sprinkler system corrosion monitoring in conjunction with a nitrogen generator corrosion control system.
Prior to the commissioning of the ECS Nitrogen Generation System all fire sprinkler systems were hydrostatically tested per NFPA 13 requirements and maintained with supervisory gas from the air compressor only.
Approximately eight (8) weeks after hydrostatic testing the facility received a signal indicating activation of a 4" ECS In-Line Corrosion Detector installed on a preaction system. Within two weeks the facility reported activation of a second 4" ECS In-Line Corrosion Detector installed on a preaction system. Analysis proved both failures were the result of rapid oxygen corrosion at the corrosion detection surface where trapped water was present.
After activation of the second ECS In-Line Corrosion Detector the ECS Protector Nitrogen Generation System was commissioned and within fourteen (14) days all preaction fire sprinkler systems were protected by a minimum 98% nitrogen atmosphere. Once the nitrogen generator was placed in service, the preaction fire sprinkler systems were maintained under a high nitrogen atmosphere. In the subsequent twenty-four (24) months the facility reported no additional activation of ECS In-Line Corrosion Detectors.
Have questions about your own corrosion monitoring project? Contact us or download the full case study below.