ECS has completed many nitrogen generator installations for the cold storage industry, whether that be for the purpose of preventing ice plugs resulting from existing air supplies (air compressor or compressed air dryers).
As a quick background, nitrogen generators are primarily used for corrosion control by eliminating corrosive oxygen from dry and preaction sprinkler systems. As a secondary benefit, the 98% nitrogen gas produced by the generator has an extremely low dewpoint - -80 to -100 deg F – which prevents the formation of ice plugs in freezing environments. A dew point this low is unmatched by any other means of supervisory gas supply.
Case Study Overview
In June of 2017, an ECS Corrosion Management system was commissioned into service at a large cold storage distribution center in Shelbyville, TN. It was reported that the facility had several dry systems covering loading dock areas that experienced severe corrosion issues and pipe replacement as a result.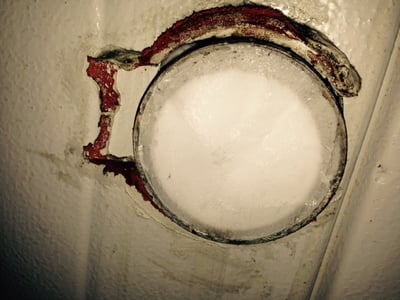 In this case a nitrogen generator was chosen as the best option to mitigate future corrosion problems. Since June of 2017, there have been no reported instances of pipe replacement, and also no reported cases of ice plugs (see image) in the freezer areas.
The nitrogen generator was the ultimate option for this facility, among many others, with proven long-term results in ensuring the long-term integrity and operational ability of the dry/preaction sprinkler systems due to corrosion and ice plug prevention.
A nitrogen generator is without questions the best option for cold storage facilities, it is the only option that addresses two (2) key issues in one (1) package. Long-term maintenance costs of this solution are low and the ease of operation makes it the clear winner.
Contact ECS today to help address your cold storage needs!