No storage tanks or refrigerated AIR dryers!
As the demand for the use of nitrogen grows, it is imperative that the fire sprinkler industry become familiar with the different types of equipment available.
Today there are three styles of nitrogen generators installed in the field: Wall-Mounted, Skid-Mounted, and Stand-Alone. For now, we will focus on ECS' wall-mount nitrogen generators and the distinct features and benefits they provide.
What is a Wall-Mount Nitrogen Generator?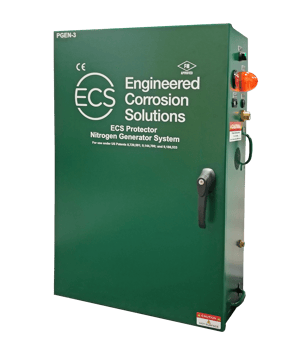 ECS' Wall Mount Nitrogen Generators are the smallest models in our nitrogen generator product line. These units are self-contained cabinets and take up zero floor space when installed. ECS' wall-mount generators require a single 120V power supply, which does not require a separate power supply for the integral air compressor inside the cabinet.
These features, along with ECS' other technological advantages, provide a nitrogen generator that is both easy to install and maintain while taking up a minimal footprint.

Product Specs and Features
ECS currently manufactures three different wall-mount generator models: the PGEN-3, PGEN-5, and PGEN-10. These generators are offered in two different sized cabinets and weigh between 115lbs and 175lbs. The generators can meet volume capacities from up to 675 gallons (PGEN-3) to up to 2,000 gallons (PGEN-10). At 40psi, the integral air compressors can meet the 30-minute fill requirement for 215 gallons (PGEN-3) up to 560 gallons (PGEN-10). The 30-minute fill capacities increase at lower pressures.
A feature that is unique to ECS' PGEN-3 and PGEN-5 is that an air maintenance device is NOT required to be paired with these generators when they supply a single dry or pre-action fire sprinkler system. This exemption is only applicable to ECS' PGEN-3 and PGEN-5 models.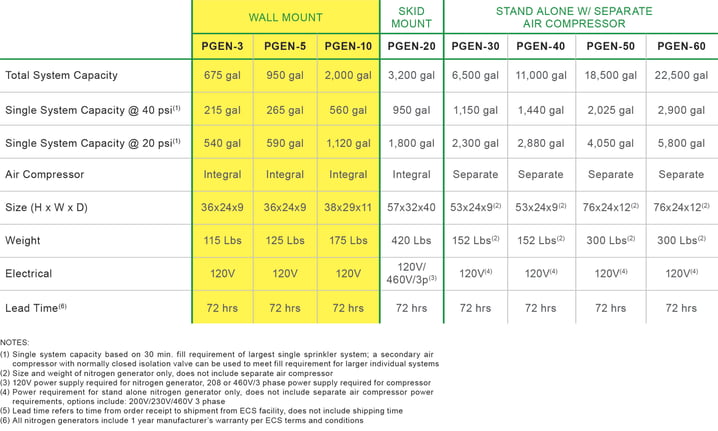 All ECS nitrogen generators include dry contacts for monitoring operation of the equipment. Maintenance requirements are minimal, with all ECS nitrogen generators requiring an annual filter kit replacement to protect the 20-year service life of the gas separation membrane in the generator.
Application
ECS wall-mount nitrogen generator models are ideal for applications with limited space available for equipment and where running new or multiple power sources is difficult and cost prohibitive.
New Install
Supervisory nitrogen gas is the best solution to preserve the piping in a fire sprinkler system and prevent future issues with system leaks and costly pipe replacement. In newly installed sprinkler systems, ECS' wall mount nitrogen generator can be used to meet the 30-minute fill requirement and to maintain the system with supervisory nitrogen gas that provides corrosion mitigation benefits and extends the life of the sprinkler system. To size a nitrogen generator the total system volume, the largest system volume, and the supervisory gas pressure of the system are needed.
Existing System
Wall-Mount Generators are the best retrofit option for dealing with corrosion issues on existing dry and pre-action systems. In most existing applications, the existing air compressor can remain to meet the 30-minute fill requirement, which can allow a smaller generator to be used for system maintenance as long as the generator's total system capacity is not exceeded. This, along with the ease of equipment installation in the riser room, make upgrading an existing dry system to nitrogen very simple and practical. It is the most effective option available to minimize future pipe replacement and extend the life of the existing sprinkler system.
In Review
Wall-Mounted Nitrogen Generators are the most versatile generators available today.
They provide corrosion mitigation to any dry or pre-action system while taking up zero floor space and requiring only 120V power. This, along with the benefit of installing the oxygen removal vent on the riser (model PAV-D or PSV-D) make adding nitrogen to any system simple and economical.
Nitrogen generators are a great option for both new installations as well as existing retrofits when maximizing system life expectancy is desired.