Historically, antifreeze fire sprinkler systems have been the low-cost alternative to installing dry pipe/preaction systems in spaces that experience temperatures below 40˚F. They are commonly used in attics, loading docks, trash chutes, etc. Around 2010 the National Fire Protection Association (NFPA) found that antifreeze systems had the potential to increase the intensity of fires instead of suppress them if the concentration was too high. For this reason, the 2013 edition of NFPA 13 required the use of a listed or approved antifreeze solution proven to not increase the intensity of a fire via NRTL product testing.
On September 30, 2022, NFPA will require the use of a premixed listed antifreeze for all existing and new antifreeze systems (NFPA 25 section 5.3.4.4). Prices can be as high as $84/gal for premixed antifreeze, making antifreeze systems cost-prohibitive vs. a dry pipe or preaction system. Along with this higher cost, antifreeze is known to be susceptible to chemical breakdown at elevated temperatures, which leads to internal acidic corrosion of sprinkler piping. Wet systems feeding antifreeze loops can also develop leaks in less than 5 years.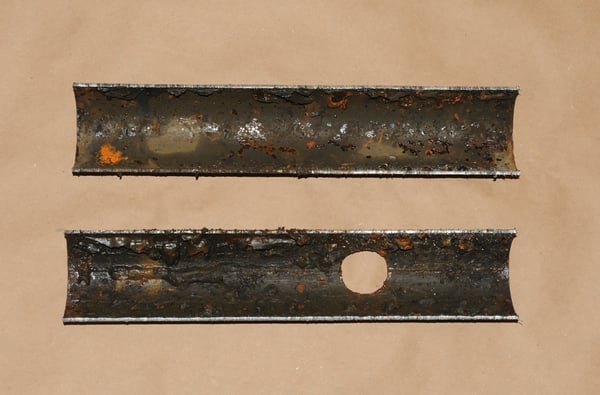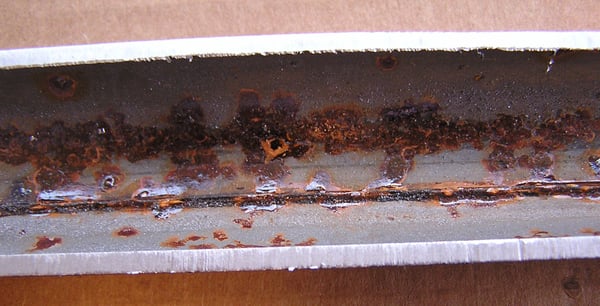 Acid-induced corrosion on wet system piping feeding antifreeze loop.
Dry pipe systems have traditionally had leak issues of their own due to the unlimited amount of oxygen supplied by the supervisory air compressor. When using a nitrogen generator in lieu of an air compressor, the lifespan of a dry system increases by at least 4X.
The following comparison illustrates the potential cost savings of converting these antifreeze systems to dry pipe systems with a nitrogen generator.
Listed Antifreeze Cost - Typical Application
Assume system size of 500 gallons
Antifreeze cost ($/gal) = $84/gal
*Total antifreeze cost = $84*500= $42,000
*This is just the initial cost of purchasing the antifreeze. It does not include the cost of labor or antifreeze disposal which can add another ~$7/gal to the total cost. This will be a recurring cost every five years provided the system is drained for a 5-year internal inspection. Additionally, if the annual antifreeze test does not pass, the system must be drained, and new antifreeze added.
Nitrogen Generator Cost
Assume system size of 500 gallons
Nitrogen Generator Turnkey Installation Cost (labor and materials included): ~$13,000
An existing antifreeze system will require modification to become a dry pipe system. This cost is variable, but in this example, if it is less than $29,000 the conversion would pay for itself without factoring in recurring antifreeze or leak repair costs.
With the new requirement for listed antifreeze, a dry pipe system with a nitrogen generator would in most cases be a lower cost and more reliable alternative to antifreeze sprinkler systems. Contact our team to learn more about converting your system.