ST. LOUIS, MO March 30, 2017 – Engineered Corrosion Solutions LLC (ECS), is proud to announce that the ECS In-Line Corrosion Detector (ILD) has been awarded the 2017 Corrosion Innovation of the Year. Materials Performance Magazine announced the corrosion innovation award at the National Association of Corrosion Engineers (NACE) 2017 International Conference and Exhibition after reviewing 44 worldwide nominations. Published monthly, Materials Performance (MP) is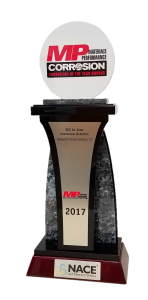 the world's largest journal dedicated exclusively to corrosion prevention and control.
The ECS In-Line Corrosion Detector is designed to provide an early warning indication of internal corrosion activity in fire sprinkler systems before piping needs to be replaced. A cross-section of the device shows the two key attributes that allow for early detection of corrosion: an externally machined section of the pipe that creates a "thin wall" area and a pressure chamber created by an external sleeve welded over the pipe. The ECS In-Line Corrosion Detector is equipped with a pressure switch to monitor the pressure chamber, so when corrosion penetrates the thin wall section of the detector, the pressure switch observes system pressure and activates.
The device is designed to be installed where corrosion is most likely to occur: the air/water interface. The complete 360-degree surface area detection ensures the device is highly effective in both wet pipe and dry pipe fire sprinkler systems, where the elevation of the air/water interface may vary greatly. The patented design allows the thin wall section of the device to fail before other system piping is significantly damaged, permitting corrective action to be taken long before corrosion damage requires piping to be replaced. The In-Line Corrosion Detector offers a significant technological advancement over outdated corrosion coupon stations or other ineffective DIY methods used in the fire sprinkler industry.
"As the technology leader for corrosion control in fire sprinkler systems, ECS is continuously developing new products to provide engineered solutions for our customers. We recognized that the existing coupon station approach borrowed from applications in other industries was inappropriate for accurately monitoring corrosion in stagnant fire sprinkler systems, so the ILD was born. We are extremely honored that a distinguished panel of experts felt our device was worthy of this corrosion innovation award," said Jeff Kochelek, CEO of Engineered Corrosion Solutions. "We have always believed that measuring the effectiveness of a corrosion control program through ongoing monitoring of the protected system is essential, and the ECS In-Line Detector is the ideal device for monitoring metal loss in fire sprinkler systems."
In recognizing the value of third-party certification, the In-Line Corrosion Detector is UL Listed for use in fire sprinkler systems. The ILD is available in multiple sizes, schedules, and materials to match the piping used in the monitored fire sprinkler system. Each device includes a remote test indicator when local notification is more practical.