For most IT professionals who manage data centers, the thought of fire sprinkler system pipes above their data halls does not inspire confidence because of their propensity to leak.
As such, many data centers employ double‐interlock preaction systems in which water fills the fire sprinkler piping only after the detection system recognizes a series of fire events. These systems incorporate redundant detection to reduce the chances that a false alarm or the loss of supervisory gas pressure will trigger any sort of water discharge.
Despite the intended function of these systems to protect property, they introduce another risk that is often overlooked: a tendency to leak due to internal corrosion of the fire sprinkler piping.
Data Center Corrosion Risks
Only recently have corrosion management "standards" began to address corrosion management for fire sprinkler design and installation that take the elevated risks associated with corrosion into consideration. Data centers carry a very disproportionate risk in two key areas: hardware risk and business continuity risk.
Even a small leak in the fire sprinkler piping above a data hall can cause massive damage. There have been documented cases of corrosion leaks causing millions of dollars in damaged equipment. In these cases the cost of the equipment loss is dwarfed by the lost business opportunity. For example, shutting down a data center serving a financial institution that is active during the trading day on the stock exchanges could result in multiple millions of dollars in losses — not to mention the liability risks associated with their client losses.


Case Study — Mission Critical Data Center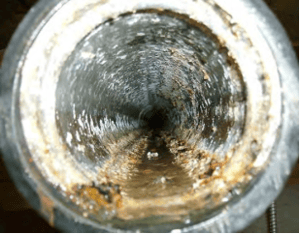 In 2010 we began to evaluate a 100,000 square foot data center in Missouri, built with five double-interlock preaction fire sprinkler systems and galvanized steel piping.
After 8 years of service, highly localized leaks began to develop in the 3" galvanized schedule 10 main piping, all under accumulations of trapped water. The pipe sample analyses we extracted from the system mains revealed wall penetrations of up to 62.5% due to oxygen corrosion pitting (see photo).
Solution and Results
In early 2011 the client elected to install an ECS nitrogen generator and employ the patented "fill and purge" breathing technology, which would remove oxygen from the fire sprinkler piping and provide nitrogen gas for pressure maintenance. The client installed and commissioned the ECS PGEN‐20 Nitrogen Generator (see photo below) to supply nitrogen to the 5 preaction sprinkler systems within the facility.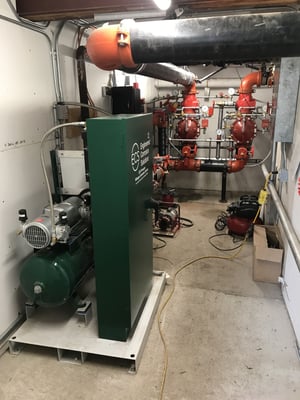 Despite the significant damage found during the assessment, we replaced no fire sprinkler system piping within the facility prior to the installation of the ECS nitrogen generation system. Providing 98% nitrogen supervisory gas in place of compressed air was able to stop the corrosion in the system piping, even in locations with trapped pools of water.
Since the installation of the ECS PGEN‐20 nitrogen generator, there have been no additional leaks within the preaction fire sprinkler systems in the facility.
Our Recommendations
There is now a significant body of evidence suggesting that many data centers may start seeing increased leak frequency in the fire sprinkler systems that protect the data halls. As data centers age, the likelihood of corrosion-related leaks grows.
Whether you operate a new or existing data center, we recommend taking the following actions to limit the risk of corrosion in your fire sprinkler piping:
Perform internal video assessments of the existing systems to determine the current level of risk.
Avoid using galvanized steel — opt for black steel instead.
Install an integrated Dry Pipe Nitrogen Inerting (DPNI) system to remove oxygen and prevent corrosion.


For more information on the risk associated with corroding fire sprinkler piping in data centers, download our full-length white paper below.