Engineered Corrosion Solutions (ECS) offers a large variety of nitrogen generator systems to provide supervisory nitrogen gas for dry pipe and pre-action fire sprinkler systems. A total of eight (8) different nitrogen generator models are available – from small wall mount systems protecting up to 675 gallons to high capacity systems protecting up to 22,500 gallons.
But a nitrogen generator system is not complete without a venting or oxygen removal device.

Air Vents for Any Dry Pipe System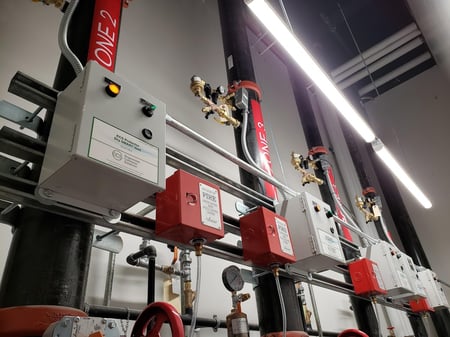 The primary function of a dry system vent is to allow the removal of corrosive oxygen from the fire sprinkler system. Without a vent, the nitrogen generator will only provide high purity nitrogen gas as the system depressurizes through natural system leakage, allowing the oxygen trapped inside to continue to corrode for up to four (4) months before being consumed. By comparison, a fire sprinkler system with a nitrogen generator and an oxygen removal vent will completely remove oxygen in 14 days or less, offering a significant benefit in corrosion control over the life of the sprinkler system.
ECS offers two different models of dry system vents to remove oxygen from dry pipe and pre-action fire sprinkler systems. The ECS Protector Dry Manual Vent (PAV-D) offers a lower upfront cost and does not require any electrical connections.
The ECS Dry SMART Vent (PSV-D) offers more functionality and automation, closing automatically in 14 days once the sprinkler system reaches the desired nitrogen concentration. Both vents are installed at the fire sprinkler riser and facilitate the patented fill and purge breathing process.
Watch the video below to learn more about the PSV-D.


For most applications the Dry SMART Vent is the "smarter" technology choice because it eliminates the need to manually verify system nitrogen concentration before closing a mechanical ball valve.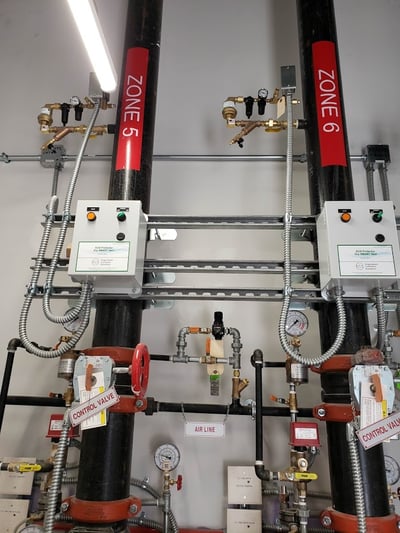 The Dry SMART Vent is completely automated and does not require a return trip by the fire sprinkler contractor or property management personnel. Any time a dry pipe or pre-action fire sprinkler system is depressurized for inspection, testing, or maintenance, a single button activates the Dry SMART Vent and re-starts the fill and purge breathing process until automatic shutoff halts the inerting process.
Automatic shutoff reduces the run time on the nitrogen generator and air compressor to minimize power consumption and extend equipment service life.
Uniquely ECS
Unlike other products available on the market, the ECS Dry SMART Vent is installed at the fire sprinkler riser, where access to power supplies and monitoring equipment is highly accessible. Dry SMART Vents will never require remote power, monitoring, or gas sampling connections which significantly reduces installation time and cost. A failsafe back-pressure regulator prevents the fire sprinkler system from accidental depressurization, and a float valve prevents water discharge in the event the sprinkler system trips.
The use of pressurized nitrogen cylinders or nitrogen generators provides a higher level of corrosion protection than air compressors or air dryers, but the highest level of corrosion protection for dry pipe and pre-action fire sprinkler systems is a nitrogen generator system paired with an oxygen removal vent. Careful consideration should be given to the type of vent specified to ensure it is appropriate for the project application.
Interested in learning more about the PSV-D SMART Vent? Download our comprehensive product brochure below.