As nitrogen inerting of dry and preaction fire sprinkler systems becomes more common, so too does the need to automatically monitor and control this process. This is especially prevalent in mission critical applications such as data centers or high-tech manufacturing facilities; these types of facilities often require the nitrogen purity of a system be monitored over time and the inerting process be automatically stopped so that human error is kept in check.
Technologies to meet these requirements have existed on the market for some time, but unfortunately these technologies have historically come with some significant drawbacks. Some of these drawbacks include the requirement to locate equipment over occupied space at a far point of the sprinkler system, the requirement to run communications wire or sampling tubing to a far point on the system, or the need to use many small controls boxes, sometimes one for every sprinkler zone.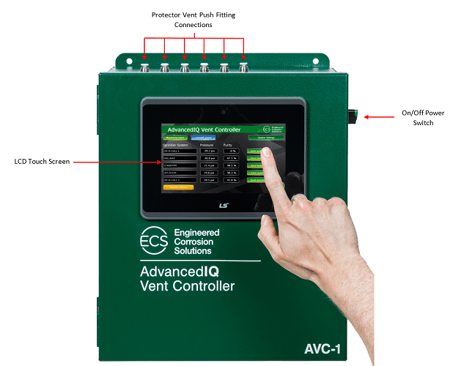 ECS introduced the AdvancedIQ Vent Controller (AVC-1) to streamline the way we monitor and control fire sprinkler systems. The AVC-1 will monitor the nitrogen purity and gas pressure of each sprinkler system, and it will also control the nitrogen inerting process, ending this process when each system has reached its desired nitrogen purity level.
One of the main drawbacks of other monitoring technology is that many times it requires tubing or communication wiring to be installed from the riser room to a far point in the sprinkler system, incurring additional labor costs and complexity.
With an ECS nitrogen generator, AVC-1 control panel, and system vent, you can install everything in the riser room and streamline the installation process. The AVC-1 can control six (6) sprinkler systems from one unit, store monitoring data for later review, and communicate trouble events to your building monitoring system or fire alarm control panel.
Picture a data center with eleven (11) preaction fire sprinkler systems where the supervisory gas is being supplied by a single nitrogen generator. Since this facility would conceivably have a very low tolerance to business interruption risk and would need to know if their corrosion mitigation strategy is operating effectively, they have elected to make nitrogen purity monitoring for each system a requirement.
In this application, ECS would be able to supply two (2) AVC-1's to automatically control and monitor these eleven (11) systems, and since both the system vents and the AVC-1 are located in the riser room, there is no need to install long tubing or wiring runs to a far point on the sprinkler system; in fact, in most situations, only about 25 feet of tubing is needed per zone.
In this scenario, ECS's AVC-1 provides this data center with the information they need to be sure their corrosion mitigation strategy is working, all while being easy to use, easy to install, and easy to service.
Learn more about the AVC-1 and contact sales below