Project Background
A data center in the Atlanta area was originally built in 2009. The fire sprinkler system was comprised of ten (10) preaction system, each consisting of schedule 10 mains and schedule 40 branch lines.
During the initial construction, the specifying engineer suggested the use of nitrogen as a pressure maintenance gas, but the building owner declined. By 2013, the systems had experienced numerous leaks on the main piping of the preaction systems.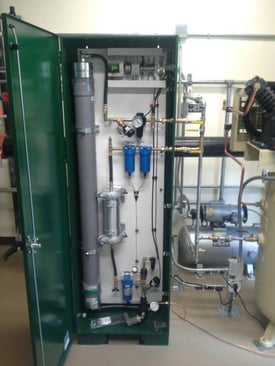 That same year, ECS was contacted to determine what next steps were required to mitigate the risk of future leaks in the mission critical facility. A nitrogen generator was installed within several months to limit the reintroduction of oxygen into the system piping, and a permanent gas analyzer was installed to ensure oxygen levels were kept to a minimum.
Subsequently, a series of internal investigations were performed to identify areas of the original galvanized piping that needed replacement and to continue to monitor the internal condition of the sprinkle piping.